Mar 28, 2019
After graduating from Old Dominion University, Anne Galante worked on an organic farm in North Carolina. It was here that she connected the relationship between local, fresh food with her health and nutrition background. Eventually her adventurous spirit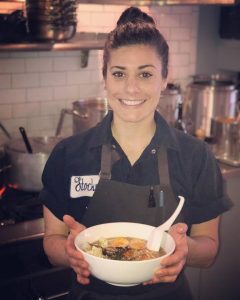 and passion for travel took her to the Caribbean where she landed her dream job working on a private luxury catamaran. She assisted the captain sailing and prepared meals during the journey from Honduras down the coast to Panama and Cartagena, Colombia. Experiencing local culture and meeting people from all over the world was one of the most special experiences of her life thus far.
When she arrived back in Hampton Roads, uncertain of her next move, Anne visited the Leaping Lizard Café in Virginia Beach at the behest of a friend, not knowing at the time that this is where her cooking career would take off. Anne says the experience at Leaping Lizard Café, along with her time at Pacifica and Terrapin thereafter, were all critical in creating the vision of her own restaurant. The Stockpot opened in the fall of 2015.
Away from work Anne enjoys spending time outside riding her bike, running and beach time with friends. She is endlessly inspired by travel and will continue to scheme trips near and far. She still appreciates hosting dinner parties and cooking for her friends, but only if they agree to do the dishes!